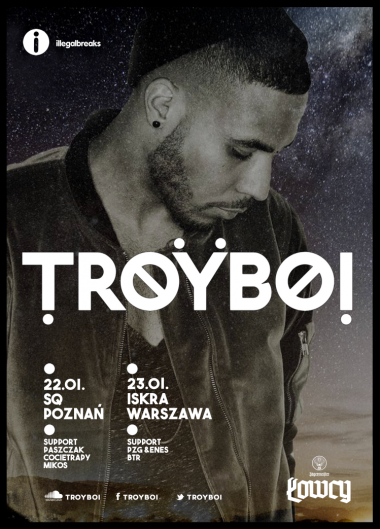 TroyBoi, a trap producer from London, is an emerging star with increasing renown and expanding influence on the scene of electronic music.
Artist with an exceptional tone, fusing various genres and weirdest sounds in highly alluring and musical tracks. This unique style, although music critics classifies it as a trap, by the artist himself is branded as "My Style", because, as he states: "I'm just naturally attracted to weird things, or things that are just different. [...] I like to be different, and I love to show that in my music."
Among others, he collaborated with Flosstradamus ('Soundclash', that gave TroyBoi a wide recognition) and Diplo ('After Hours', feat. Nina Sky); beside his solo activity, he also co-create with Icekream the Producer/DJ duo SoundSnobz.
more about artists:
Support:
22.01. SQ / Poznań:
PASZCZAK
COCIETRAPY
MIKOS
23.01. Iskra / Warszawa
PZG & ENES
BTR
Start at 10 pm 
https://www.facebook.com/events/902371099831295/
https://www.facebook.com/events/1638579053092191/
Events are also supported by ŁOWCY
Tickets are available! Price: 25 pln (I part). Points of sale: Empik, Media Markt: www.ekobilet.pl, www.ticketpro.pl, www.biletomat.pl, www.biletin.pl