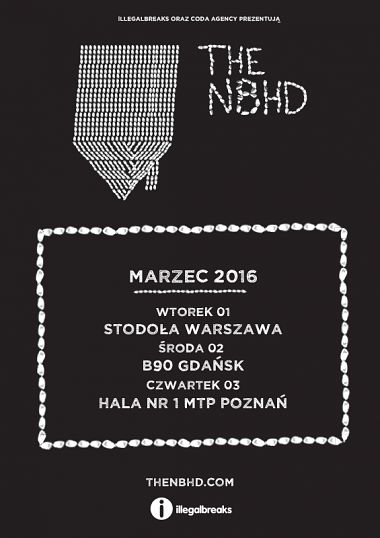 THE NBHD is back to Poland in March!
-
1.03. Warsaw / Stodola 
2.03. Gdansk / B90 
3.03. Poznan / Hall no.1 MTP
- 
Support:
Warsaw - Piotr Zioła
Gdansk - Daria Zawiałow
Poznan - Call The Sun
-
The Neighbourhood is a band from California, created by five versatile musicians: singer Jesse Rutherford, guitarists Jeremy Freedman and Zach Abels, bassist Mikey Margot and drummer Brandon Fred. Charismatic group, for a long time hidden behind a mystery, in 2013 gain a wide popularity thanks to singles "Sweater Weather" and "Afraid". Also in Poland they have a particularly huge crowd of fans - maybe because we exactly know, what does it mean a "sweater weather"..
In their earlier songs they combine in a revelatory way rock instruments with R&B and hip-hop aesthetics; this year they released next album - "Wiped Out!" - where they create a new sound: multilayered, moody, hypnotic and melodic. The NBHD are still evolving and as a result achieving even more frenetic energy, but without loosing anything from a delicate beauty of their songs. As Jesse clarified his vision, it's "a happy music for sad people".
More about the band: www.thenbhd.com