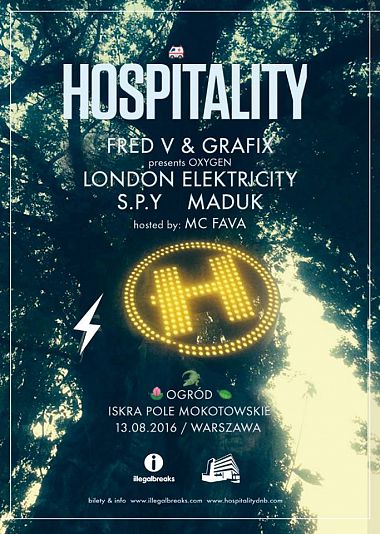 Hospitality comes back to Warsaw!
One of the most important clubbing experiences in the world is back to Poland! On August 13th, the top of british and world's drum'n'bass will perform for us - again, after 4 years, in Warsaw, in outdoors of ISKRA Pole Mokotowskie. Heavy bass, friendly atmosphere and highest quality production - that's what marks Hospitality events all over the world from the very beginning. We've organised for you polish edition five times and we hope that previous one in Warsaw, was a strong and positive experience. This time again will surely be a true celebration of d'n'b, provided to us by:
FRED V & GRAFIX presents Oxygen
LONDON ELEKTRICITY
S.P.Y
MADUK
and
MC FAVA

We'll announce polish accent of the event shortly.