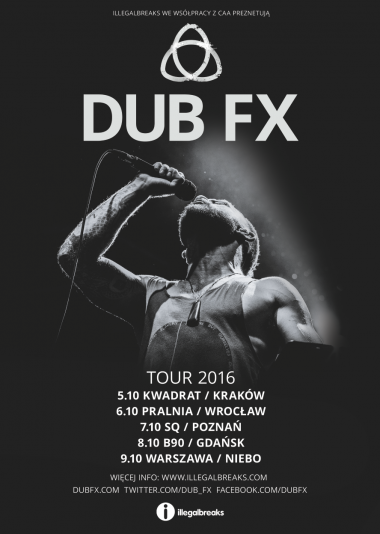 Dub Fx IS BACK for his 10th anual European Tour!
With the release of his latest album "thinking clear" (august 2016), DUB will be performing a mixture of his new tunes with the classics that got him world wide recognition on YouTube. 
DUB FX live tour 2016:
5.10 Kwadrat - Krakow
6.10 Pralnia - Wroclaw
7.10 SQ - Poznan
8.10 B90 - Gdansk
9.10 Niebo - Warsaw 
Since 2006 dub has dominated the world of street performance as a solo artist using his voice and a loop station. This October he is armed with a live band to bring his usual fusion of reggae, hip hop, jungle and jazz with an extra soulful twist.
Dub FX has performed in over 40 countries and almost every major festival worldwide including Glastonbury, Coachella, Sziget, Boomtown, Shambala & Exit.
"I really can't wait to come and play the new tunes in Europe! Touring and making music is what i do. I've done it for 10 years and i feel like i get better every year. the guys in my band helped me record the new album and I'm super proud of how good it sounds, both live and recorded."
DUB FX has a way of exploring social, political and spiritual themes that will leave you feeling positive and inspired. The new blend of live instrumentation over his signature beat boxing gives an edge to his unique sound to send you on a hypnotic journey.
more: https://www.facebook.com/illegalbreaks/events