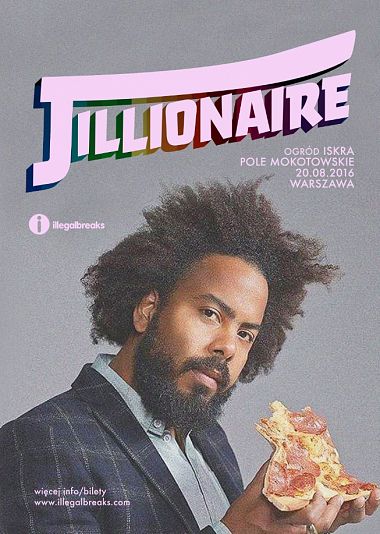 The Jillionaire / Major Lazer

***
20.08.2016 Warsaw
ISKRA Pole Mokotowskie
start: 10 pm

***

support: GREEN HOUSE EFFECT


***


Trinidad & Tobago native THE JILLIONAIRE fuses the Caribbean sounds of Soca and Reggae with influences of various music genres from around the world.

JILLIONAIRE's brand grows in demand both in collaboration and in his own right. Alongside Diplo and Walshy Fire he is an integral member of Major Lazer, As a solo act he's had multiple tour runs throughout Europe, North America, Asia and Australia.

In the studio JIllionaire frequently teams up with other talented producers including Brooklyn-based producer Richie Beretta with their remix of the Dolls' Summer of '93, a breakout remix with rising-producer Phat Deuce for MNDR hit single FEED ME DIAMONDS and his first original release came out earlier this year on Island/Universal with Swedish producer Salvatore Gancacci featuring Sound Boy Sanjin in the summer festival anthem FRESH. The track already has the DJ support from Nervo, Chuckie, Steve Aoki and playlisted on both BBC Radio 1Xtra and Australia's Triple J. 

This year saw the launch of his imprint Feel Up records, providing an outlet for talented artists who simply put "make music that touches you". 

With tours on almost every continent this year, and more releases to come, you may think you know JILLIONAIRE but he's just getting started.