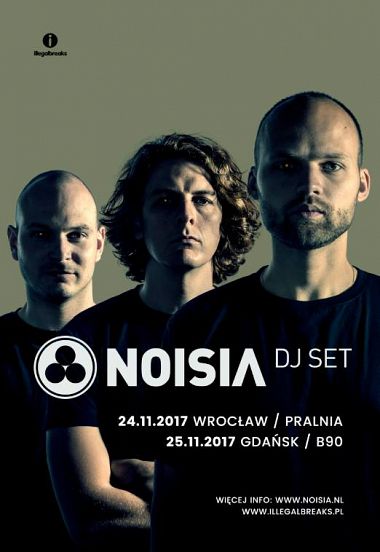 Noisia in Poland!
Illegalbreaks Agency invites you to show with Dutch DnB masters!

Noisia DJ set
24 Nov / Klub Pralnia Wroclaw!
25 Nov / Gdansk, club B90!
Noisia: Three men, one Vision: to explore the outer edges and capabilities of electronic musicality without compromise, to turn sound design into an art and aspire to make records that sound like no one or nothing else. United by a shared passion for progression, technical innovation and ruthless quality control Nik Roos, Martijn van Sonderen and Thijs de Vlieger have worked together since leaving school. Within two years of their 2003 debut release they'd already appeared on some of the most agenda-setting labels in drum & bass: Moving Shadow, Subtitles, Renegade Hardware, Shogun, Ram and many more. From their drum & bass roots they've proceeded to stamp all over the musical map to become one of the most established and uncompromised acts in electronic music. They've created benchmark productions, established three respected labels (Vision, Division, Invisible), remixed rave titans such as The Prodigy and Skrillex, curated their own Noisia Invites festival and scored games such as Devil May Cry and Counter Strike and music for movies such as The Man From U.N.C.L.E. and Transformers 3. Creators of genre-changing tracks like "Tommy;s Theme", "Contact" and "Shellshock" with Foreigh Beggars, "Stigma" or  "Split The Atom".
Outer Edges, the band's second album and performance concept, a vast project that sees them exploring the periphery boundaries of their expansive palette, pushing and pulling their vision further than it has previously been. Visually heightening, physically stimulating, technically unique and immersive. New limits set both in the studio and on stage, the outer edges have been established.

Support:
Wrocław - BC Gangsteppaz, Saltea 
Gdańsk - Mr. Cannabeatz, Noisy b2b Detoxic 
More info:
Noisia in Wroclaw - event @ Facebook
Noisia in Gdansk - event @ Facebook