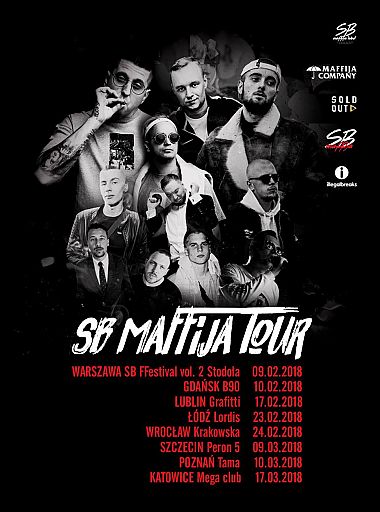 Line-up:
► Solar
► Białas
► LANEK 
► Bedoes
► Beteo
► Wiatr
► Jan - rapowanie
________________________
SB Maffija Label, illegalbreaks and SOLD OUT Agencja present special showcase!
One stage and all SB Maffija Label's artists - Solar, Białas, Lanek, Bedoes, Beteo, Wiatr, Jan Rapowanie, Avi and Louis.

Media patronage: Glamrap

Official partner of the tour: Selectshop
Info for minors:
1. for those who are 16 or older - you will need filled document of statement from parent: http://www.illegalbreaks.com/do-pobrania
2. if under 16 - filled document of statement and parent or guardian of age will be needed. Parent/guardian need separate ticket.  
More info: