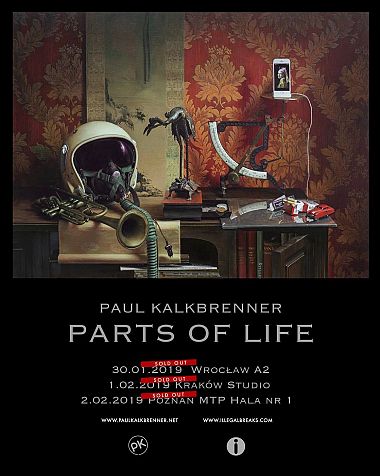 Paul Kalkbrenner in Poland! Artist will visit three cities in Poland during his european tour Parts of Life 2019:
30.01.2019 – Wroclaw, A2
1.02.2019 – Krakow, Studio | SOLD OUT!
2.02.2019 – Poznan, Hall no 1 MTP | SOLD OUT!
Paul Kalkbrenner's eighth album, Parts Of Life , comes a decade after his Double Platinum selling LP Berlin Calling, and feels similarly definitive for an artist who has spent the last 10 years topping charts and performing his singular strain of grand techno to ever growing audiences.
Parts of Life, follows Paul's Back To The Future trilogy, chronicling the arrival of techno in Berlin in the late 80s. It's clear those raw, stripped down early recordings left their mark. Parts of Lifefeels lean and elemental but big and joyful, it's a timeless record marked by invigoration. This is Paul's most personal and revealing work, delivered in its purest form. Each track is simply titled with the working file number used in production. The album's still life cover, painted over a two year period by Paul's uncle Paul Eisel, offers another glimpse of Paul, depicting a series of unique personal objects.
"Parts of Life": https://paulkalkbrenner.lnk.to/Parts_Of_Life

More info:
http://www.facebook.com/illegalbreaks
https://paulkalkbrenner.lnk.to/Parts_Of_Life
Events @ Facebook: Wroclaw / Krakow / Poznan